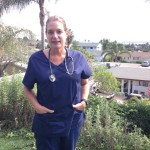 This month we proudly introduce you to another one of our very talented San Diego caregivers.  Anita Olson was nominated as our July 2015 San Diego Caregiver of the Month!  We put together a brief interview with Anita to share how she became a caregiver and what she loves most about her profession.
The entire Grace Care Management team thanks you Anita for the wonderful work you do!
Where are you from and what is your background?
I am originally from a Missouri farming community. I attended the University of Missouri Kansas City and majored in foreign language and minored in opera. I moved to San Diego about 25 years ago. I decided to come for the sun and stayed for the fun! While in San Diego I studied law and worked as a paralegal for 25 years.
What made you interested in becoming a caregiver?
I realized in the law office that I didn't have enough meaningful contact with others and I wanted to be in a helping profession. I have always enjoyed being with the elderly and I knew caregiving would give me that opportunity. I decided to enroll in Cali Medical College and became a certified CNA and Home Health Aid about a year ago.
What do you like most about being a caregiver?
I enjoy the challenge and stimulating the minds of my clients while also entertaining them. The physical aspect of my job is extremely important but what I really enjoy most is playing games like Scrabble, cross word puzzles, or introducing foreign movies to the people I help if they express interest. It's rewarding to be a part of expanding their world. I put a lot of effort into giving them a well-rounded life focused on as much independence as possible. Mental stimulation is so important!   For example, I am currently helping my client to help conserve water and it gives us a goal to strive for everyday.
I find those I work with also really love it when I prepare nutritious meals within their dietary limits, and this works well because I enjoy cooking! I like to incorporate dishes from countries I have visited or read about as well. My goal is always to get my clients excited about life again.
When you are not caregiving, what do you enjoy doing most?
I enjoy exercising, singing in my church choir, shopping with my teenage daughters and collecting sound objects. I love looking for objects that are like a window into other people's minds. Often I find others trash to be my treasure!
My daughters are 16 and 17 and we have a lot of fun together. We like to go out on the town as a family. We especially enjoy the water in Bay Park and spend a lot of time in that area enjoying the views.