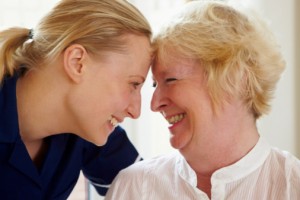 By Cindy Hasz, Geriatric Care Manager
When I think about the caregivers I've worked with over the past 15 years, I realize I've worked with some amazing human beings. Caregivers have always been my heroes, from the days when I watched them care for far too many patients at one time in a nursing home to the following years doing home care, I've been in quite awe of them. The dedication, the patience, the gentleness, and of course the plain hard physical work. Transfers of heavy, immobile patients unable to assist from bed into a wheelchair or back into bed. Transfers that regardless of technique and good body mechanics were more like lifting, bending over bedridden patients all day and all night in order to do personal care.
How can backs stand that for years and years? Nursing of any sort is not a back friendly occupation.
San Diego caregivers I remember, their amazing energy and utter dedication to their patients: Pat at Redwood who though only just shy of 5 feet, could handle 6ft plus men as artfully as a dancer on a stage; or Jose who was always kind and respectful to his patients; or Regina, Maria, Sol, Megan and Cecilia who were faithful in years past and continue to be faithful to one man for nearly a decade. There's Barbara who daily amazes us with her skill and her humor in making life lovely and worth living for my longest standing client. There's dear Priscilla with equal parts sweet and savvy.
I continue to be humbled and inspired by the men and women who care for others as their life calling. The caregivers who are not given all the respect due to them by a culture who doesn't value care for children or elderly at home. Caregivers who don't have the titles, the prestige or power of the licensed health care professionals they work with. They are however the most important factor in care for the elderly.
San Diego caregivers; nurses, care managers, doctors, therapists, come and go. Caregivers stay with their client's day in and day out. They love those that don't have any family left, they are friends to those whose friends have mostly died, they are surrogate sons and daughters to soothe the ragged edges of loneliness that turns into a slow torture as the days and years drag on.
There must be a special crown for these faithful caregivers in heaven. I would like to see them start to wear it here on earth.