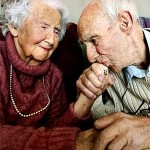 I was at the corner coffee shop yesterday when I ran into a man who I have seen over the last few years at a certain nursing home down the hill. I'd never really talked to him, though he'd been a constant presence at dinner time, helping his wife as I sat and fed other patients in the same dining room.
As he got into his car, I asked how his wife was.
He smiled an ironic little smile something between pride and exasperation. "If you asked her she'd say she was getting better every day," he said.