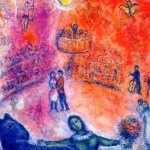 "I met you on a midway at a fair last year and you stood out like a ruby in a black man's ear." It's one of singer, songwriter Joni Mitchell's best lyrics from Clouds, her first album. Many of this poetic geniuses songs are woven in the soundtrack to my life.
Another one of her best lines is a little darker, from another early album, Blue. "The last time I saw Richard was Detroit in '68 and he told me, all romantics meet the same fate someday, cynical and drunk and boring someone in some dark cafe."
Not necessarily. Not if they join the circus.